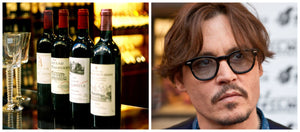 Can Johnny Depp Actually Spend $30,000 Per Month on Wine?
In case you've been following the celebrity gossip over the past couple of months, you probably already know that renowned actor Johnny Depp has landed himself in a little bit of hot water regarding his finances.
The Pirates of the Caribbean and Edward Scissorhands celebrity was embroiled in a dispute with his financial managers in recent months relating to how they have managed his money.
Everything comes down to a company known as TMG. Over the course of the 17 years that they had represented Depp, he had earned more than $600 million.
But today, they've told him that he's in dire financial straits he must sell a lot of his or her assets.
Obviously, this can be pretty astounding news to anyone who has appreciated the financial success that Depp, has. A lawsuit quickly followed, which alleges that TMG have mishandled Depp's funds over the span of his career.
But here's the twist in the narrative.
TMG have fired back with a cross-complaint that points out the company has regularly counseled Depp to get a grip on what they deem his own "reckless" spending. According to them, Depp is himself is the main reason behind his own financial collapse.
The case is still very much ongoing, so we're not likely to know the truth of what's happened for quite a while. But there's an interesting bit of information that's come out throughout the legal battle.
$30,000 Per Month on Wine

Consider just how much you spend each month on wine.
Even in the event that you get through a few bottles every week, you are unlikely to be spending much more than a few hundred dollars/euros/pounds. Even if you've got a preference for the more expensive end of the wine spectrum, then it's still not likely that you're breaking the thousand dollar mark.
However according to TMG,'' Johnny Depp spends $30,000 per month on wine. That's $360,000 every year.
The documents claim that Depp has various wines flown in from all around the world, all which is for personal consumption. And that is a massive amount of wine. While he may be spending $1,000+ per bottle, that would mean 30 bottles he gets through every month.
Of course, a guy like Depp has lots of reasons to have plenty of wine. However, that is not really the issue here.
The main question is a straightforward one.
Is it true?
If Depp does spend that much on wine each month, and TMG can prove it, it might function as an indicator he is as reckless with his spending as they claim.
For his part, Depp has come out in opposition of their claims. He says that it is "offensive" to claim he would spend so much on wine every single month.
And we could see where he's coming from with that statement. The claim paints Depp as someone with no understanding of finances, as well as a small comprehension of how the amount he spends on wine is more than a lot of people make over the course of a year.
Depp's Love of Wine
Of course, it is no secret that Depp is a lover of wine. Whether it's French, Spanish, or Italian wine, Depp has probably explored it.
In fact, his passion for wine is so powerful he's even indulged in buying his own vineyards in the past.
Back in 2007, Depp allegedly purchased a vineyard in France for his then-girlfriend Vanessa Paradis. Nevertheless, reports of that purchase might have been overblown. The sole local cooperative that represents the area where Depp made his purchase came out to say his estate did not include any winemaking facilities.
What's known is that he does own a vineyard, which he uses to make wine for his personal use.
Hence the story with wine is there. But owning a vineyard for his personal use increases more questions regarding the claims. After all, if he's producing his own wines, could he actually need to spend $30,000 worth of wines from everywhere around the world as well?
It is a difficult question to answer, not because the court case is ongoing. We haven't seen the evidence in full and Depp hasn't argued against it in a court of law.
However, if true, it is an impressive revelation. There are loads of people who love wines of all sorts. However $30,000 is too large an amount for anyone to invest.
The Final Word
What happens from here?
The truth is that nobody knows for sure. As previously mentioned, the court case is only just getting underway. With a case as complicated as this, it will probably be a long time until we get any kind of resolution. Is Johnny Depp such an iresponsible spender he blows $30,000 a month on wine? And this only the tip of the iceberg of a pattern of spending which could prove TMG's claims.
TMG would surely like you to think so. And that is probably one of the reasons why Depp finds the claims so offensive. They paint an image of a man who is so disconnected from the "reality" which the majority of people face he's spending six figures on wine annually without giving it a second thought.
It is a clear attempt to paint him in a poor light, alongside all the other alleged spending he's done through time. But that doesn't mean it's not accurate .
Only time will tell.
Ribevi Wines is of course neutral in the whole thing of course. We're only interested in the possibility that someone could spend so much on wine each month and not even realize they're spending it.
We imagine that our readers this won't have exactly the same type of budget to spend as Depp reportedly had. And that's fine, since Ribevi provides plenty of wines of all kinds and prices for all of our clients. Please take some time to navigate our online store and see if one of many Italian wines we provide takes your fancy. You won't need to pay $30,000 a month to get good wine with Ribevi.
---