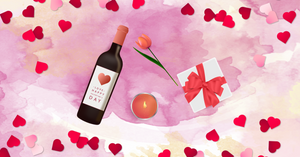 Finest Wines for You and Your Sweetheart this Valentine's Day
Valentine's Day is without a doubt the most romantic day of the year, and couples or even singles always try and make the most out of this quite special period. Starting from colorful bouquet of flowers all the way to heart shaped chocolate boxes, February the 14th is also the best time to get a good bottle of wine and enjoy it with your other half. So, if you're still looking for the best wines for Valentine's Day, here's our selection of wines to either spice up or sweeten the night.
MOSCATO D'ASTI
Considering that the official taste for Valentine's is something sweet, then a bottle of sweet wine could complement the theme. You and your loved (or soon to be) one will seriously appreciate the sweeter things in life with a glass of Moscato d'Asti. This wine is among the best picks that's been acknowledged by lots of wine critics. Take a sip of this sweet wine or pair it with some berries or fruits.
AMARONE
For the more classical couples out there who prefer to enjoy a sexy candlelight dinner while watching their all time favorite chick flick, then a bottle of luscious red Amarone could never disappoint. What makes Amarone the best treat during Valentine's Day is its rich and velvety texture dashed with fruit flavors. For a special sip with a more complex flavour, look for an older Amarone of course.
FRANCIACORTA ROSÉ EXTRABRUT
These rosè bubbly wines are definitely worth the splurge. Camossi offers very high quality sparkling winesㅡ we suggest either the Rosè or the extrabrut. These wines are perfect to set the tone for the long night ahead, especially that these can be relatively light on the palate with certain flavors that balances out the acidity. Great with an appetizer to kickstart and enjoy the rest of the night with your partner!
---