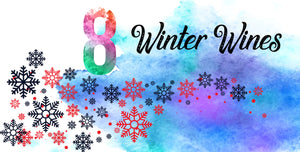 8 Winter Wines You're Going To Love
8 wines that are fantastic for holiday parties, rich cuisine, and evenings in with Netflix.
Break your ugly sweaters, electronic Yule logs, and low-hanging Game of Thrones references... winter is coming. Here is what we're hot for when the temperature drops.
8 Winter Wines
First things first, the classics:
1. Nebbiolo
Whoever came up with the phrase"looks can be deceiving," must have had Nebbiolo in mind. Yes, it looks pale and pleasant like a Pinot Noir, however this Piemontese monster has high acidity and grippy tannins which will result in an experience you won't soon forget. Decant for 45 minutes and see it rain complex rose, cherry, and leather flavors throughout your palate. You will not know what hit you.
Classic Regions: Barolo, Barbaresco, Roero, Valtellina, and Gattinara
Food Pairings: risotto, charcuterie, winter squash, mushrooms, truffles, fancy silverware, and meals cooked in quenelles
2. Shiraz
'Tis the season for something rugged. Best described as large, brooding, and boozy, Shiraz is famous for its powerful black fruit flavors, savory undertones, and high ABV (14%-15%), because of the abundance of sun. It is not for the faint of heart or palate, but it'll warm you up in a rush.
Classic Regions: Barossa Valley, McLaren Vale
Food Pairings: grilled meats, venison, boar, leather club chairs, and snow banks
SYRAH AZIENDA ROSSET TERROIR
3. Sangiovese
We promise to keep high-acid and high-tannin Italian wines to a minimum with this list. (OK we can not guarantee that.) But can we gush about traditional Sangiovese for a moment? Earthy and rustic, it goes with all sorts of winter eats as well as vegetarian cuisine. Added bonus: Its complex nose is ideal for sitting, sniffing, and considering your New Year's resolutions. BTW, resolve to drink a Brunello this winter. You will thank us later.
Classic Regions: Tuscany, Brunello di Montalcino, Chianti Classico
Food Pairings: tomato sauce, roasted winter veggies, sausage, pizza, hard cheeses, and cigars
BRUNELLO DI MONTALCINO PODERE LA VIGNA
From $45
4. Cabernet Sauvignon
We can hear you now:"Thank you for the rec, Captain Obvious." However, just how amazing Cabernet Sauvignon is this time of year bears repeating. We are all eating rib-sticking dishes, amassing fat for hibernation, and Cab is a no-brainer pairing. Nevertheless, it's also more than an eating companion, it is a thinking man's wine. It's layered, complex, and should you go Old World, surprisingly subtle. Perhaps it's just us, but you never truly understand Cabernet Sauvignon. You just continuously rediscover it.
Classic Regions: Médoc (Pauillac, Saint-Julien, Margaux), Graves, Napa Valley, Maipo, Coonawarra
Food Pairings: pepper steak, brisket, holiday roast, duck, goose, lentils, along with mashed potatoes
5. Chardonnay
It's so cool to hate on oaked Chardonnay. But, we can not get behind that. Each and every single wine has a time and a place. The time is now for rich, buttery Chardonnay. Full-bodied with dominant flavors of vanilla, butter, caramel--and a little citrus--it is quite an alternative to egg nog and hot buttered rum.
Classic Regions: California (North Coast, Central Coast, Santa Barbara), Burgundy (Puligny-Montrachet, Meursault, Grand Cru Chablis, Pouilly-Fuissé), Willamette Valley, New Zealand
Food Pairings: poultry, turkey, sea bass, lobster, comté and gruyere cheese, mushrooms, cream sauce pasta, and cream-based soups
CHARDONNAY AZIENDA ROSSET TERROIR
Sold Out
6. Champagne
Tell us friend: are you a person who drinks Champagne all year-round? If that's the case, come in to get a fistbump. (Go ahead, bump the screen) We're not really clear as to why so many relegate their Champagne drinking just to New Year's Eve. It is refreshing, light, and insanely versatile when it comes to meals. Sure, it is costly, but there are affordable alternatives. Plus, we can't think of a better way to cure winter blues than with a little bit of the bubbly.
Classic Regions: Montagne de Reims (for depth), Côte de Blanc (for Blanc de Blancs), and Valée de la Marne (for Blanc de Noirs)
Food Pairings: New Year's Eve, fries, bacon, Christmas ham, potato chips, popcorn, latkes, cheese, and nuts
7. Valpolicella
Pair your red meat, mushrooms, and dark umami flavors with a full-bodied Valpolicella Classico, among Italy's better values. If you can spring for Amarone, make it happen then, Captain.
AMARONE VALPOLICELLA AZIENDA AGRICOLA BEGALI LORENZO
---